Angela Levin is an award-winning journalist, a royal biographer, author, broadcaster and public speaker.
ANGELA LEVIN has most recently concentrated on writing about senior members of the British royal family. She has previously been a senior feature writer on The Observer, Daily Mail and Mail on Sunday. She has also written for the Telegraph, Newsweek and Standpoint and contributed to NetDoctor, the online medical site.
She has been commended twice in the British Press Awards.
Angela has written nine non-fiction books. For details see below. Her latest biography: Harry: Conversations with the Prince was published in 2018. The paperback with extra chapters was published in May 2019.
Angela broadcasts world-wide on TV and radio. This includes Sky, BBC4 and 2, CNN, NBC Canadian TV, and many stations in Europe.
***
She is married, has three sons and lives in London.
Journalist
Angela began her journalistic career as a researcher on the Observer Magazine and progressed to write a weekly interview column. She moved to You, the Mail on Sunday magazine, where she continued with a weekly interview slot, talking to a wide range of celebrities, people in the news, the famous and infamous. She also interviewed individuals and families who had experienced great trauma and tragedy.
She left to join the Daily Mail as a senior interviewer, where, as well as celebrity interviews, she also wrote an 'agony aunt' column and commented on issues of morality and current affairs.
She specialises in interviews, human interest, features and health.
Angela has written profiles of HRH Duchess of Cornwall and Prince Harry for Newsweek magazine and an in-depth profile of Prince Charles to mark is 70th birthday on November 14, 2018 for the Mail on Sunday.
To read some of Angela Levin's articles please visit:
Author
ANGELA'S BIOGRAPHY Harry: Conversations with the Prince was published by John Blake/Bonnier in May 2018 and includes exclusive conversations with HRH at Kensington Palace.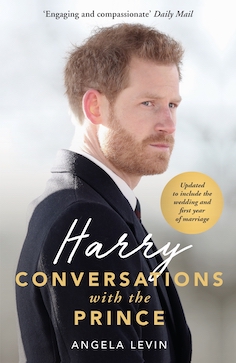 The paperback edition, with extra chapters was published in May 2019.
Angela was also part of the team broadcasting for CNN on May 19th for the wedding of Prince Harry and Meghan Markle.
Her previous books include:
Diana's Babies: Kate, William and the repair of a broken family. An inspiring tale of an extraordinary prince who has sought salvation in the ordinary. 2015 Available on Amazon
Raine and Johnnie: The Spencers and the Scandal of Althorp - Weidenfeld and Nicolson - 1993
A Chance to Live: (how the Marchioness of Tavistock fought for her husband's life and recovery following a severe stroke) - Headline - 1991
Margaret Thatcher: (biography for children) - Evans Brothers - 1981
Joint creator, writer and editor of the above website, which helps those who have a difficult parent to cope with their situation, feel better and grow stronger. It also assures them that they are not alone and that it is not their fault.